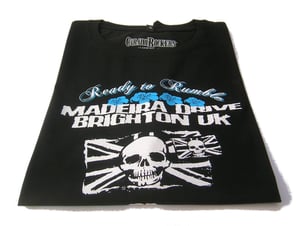 €

15.99
Madeira Drive, the street along the Brighton coast, became infamous for the violent riots between rockers and mods especially in 1964.
More than 1000 teenagers were reported to take part in these 'battles'.
100% Cotton - 165 g/m² (4.95oz.)
Double stitched, banded collars and fitted shoulders.
Logo print on the back and inside neck.
Machine Wash Cold Inside out
Do not iron the print
-------------------
Madeira Drive, la strada lungo la costa di Brighton, divenne ingloriosamente famosa per le risse tra Rockers e Mods.
Nel 1964 durante una di queste 'battaglie' furono denunciati oltre mille ragazzi.
100% Cotone - 165 g/m²
T-shirt girocollo, doppia cucitura, spalle modellate, stampa logo sulla schiena ed interno collo.
Lavare in acqua fredda
Non stirare sulla stampa